Why Pool Kings?
Because you need a pool company you can trust...
We've been in business since 2006
We are a member of the Better Business Bureau with a A+ Rating
We're licensed, bonded and insured for both Residential and Commercial. (ROC # 224399)
We proudly serve Tempe, Mesa, Chandler, Gilbert, Maricopa, Phoenix, Ahwatukee, Queen Creek, and Scottsdale, Arizona
Give Us A Call Today: 480.899.KING (5464)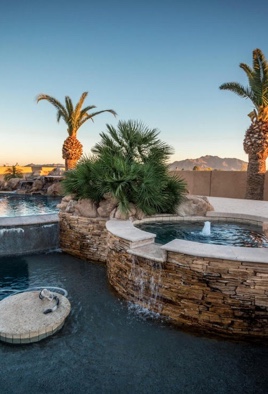 OUR CLIENTS
Our technicians care about one thing only: Customer Service. If you aren't completely satisfied with the work done on your pool, pump, or cleaning service, let us know so we can make it right. Here are some words from our recent clients, and please check out our Yelp and Google Plus+ Pages for more reviews!
Great service.  Turned my pool from a swamp into an oasis.  So nice to just go out back and swim, and not spend hours cleaning.  I'm very happy with Mike, his team, and the care they take with my pool.
Pool Kings were awesome when we needed some plumbing done on our pool.   There was apparently a small leak found in a home inspection and Pool Kings came  out right away to take care of it.  They were prompt and reasonably priced.  They make it easy to pay with online payments as well.  I also had them replace a pool pump almost 2 years ago which was also a great experience.   The pool is so much cleaner now with the variable speed pump.   I definitely recommend them for all your pool needs.  Thanks Pool Kings!
About a year ago I hired a company to service my pool. They first said I needed to drain and refill so I did. The next two months my pool turned green twice. This company said they were doing the monthly service but there were weeks on end that they were not showing up. I ended up hiring pool kings and my pool has been spotless ever since. Their techs are friendly and knowledgable. Best thing I could ever do for my pool was to fire the other company and hire pool kings.
We've had Pool Kings out several times for issues with our old Paddock Pool Pump & Filter. The filter & pump were about 12 years old, so my wife & I had them replace both.  Tech was on time and knowledgable and went the extra mile with the installation.  Removed the old pump & filter & even painted the pipes to match the pump. This winter we are going to have them drain & refill the pool as well. Everything is running great now.  Highly recommend Pool Kings for all your pool needs.

Finally, a pool service that actually knows what the heck they're doing!!! We started with them last month and immediately noticed how great our pool looks plus they managed to make necessary repairs to the equipment at a very fair price quickly. Thank you Melissa for your awesome customer service and thank you Seth for taking the time to explain everything in detail. You guys Rock  If you're looking for an honest friendly prompt pool service call Pool Kings you won't be disappointed.
This was the only company to answer my phone call/call me back within a couple hours out of the 4 that I reached out to.  The gentleman that helped me was very friendly and I didn't feel like he took advantage of the fact that I have no clue what I am doing with my pool.  The service fee of 95$ is a little pricey, but for the timeliness and efficiency in which they were here I think it was worth it.
My pump motor went out and the pool true green within days. Called Pool Kings out to replace the motor. While here they notice the backwash valve was in need of replacement. Both motor and valve replaced and the pool is in great shape. They where on time and very professional. They explained the repair and why it was done. Great company!
I have been using Pool Kings for a number of years and could not ask for better service. The prices are reasonable, service is excellent and online bill pay and communication makes it great for someone who is busy. Would highly recommend them!